Greely Relief Expedition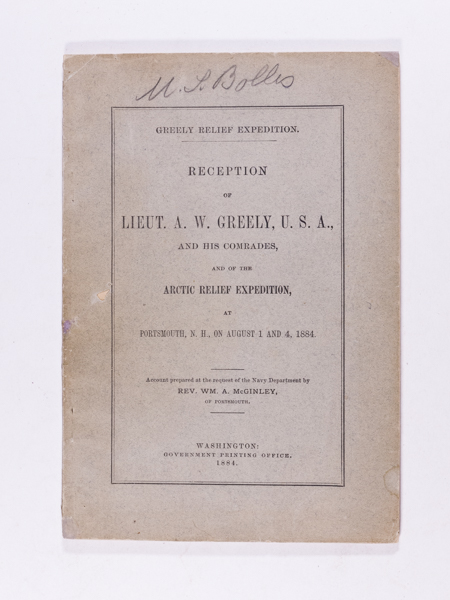 Reception of Lieut. A.W. Greely, U.S.A. and his Comrades, and the Arctic Relief Expedition at Portsmouth, N.H. on August 1 and 4, 1884.
Account prepared at the request of the Navy Department by Rev. Wm. A. McGinley, of Portsmouth.
Washington DC: Government Printing Office, 1884, First (and only) Edition. 8vo – 19.8 cm. (1 – Title), 58p. Original publisher's light-gray wrappers. Wrappers slightly aged with small chipping at head and foot of spine and lower corner of front cover, prior owner's name in graphite above ruling on front wrapper cover, otherwise a remarkably clean and tight copy showing no tears, foxing or folds – complete. A very scarce publication. Not in Arctic Bibliography; Fitzgerald 423.
This is the very scarce account of the return of the Greely Arctic Expedition (also known as the Lady Franklin Bay Expedition), the living and those who died, to Portsmouth, New Hampshire on August 1, 1884 and of the municipal reception held on August 4. After having been detained in St. John's, Newfoundland, the Greely relief ships "Thetis", "Bear" and "Alert", under Commanders Schley and Coffin, and Lieutenant Emory, pulled into Portsmouth harbor on August 1st under the escort of the "Alliance" and other vessels of the North American Squadron. Thousands of people lined the shores, and the harbor filled with ships, boats and any vessel that could float. Greely, Brainard, Biederbick, Fredericks, Long and Connell, the lone six survivors, were aboard the "Thetis". Greely was soon joined by his wife, and later by the Secretary of the Navy William Chandler, and General Hazen of the Army Signal Corps. On August 4, there was a parade of Army and Navy officers, naval cadets, marines, police, politicians and bands. In the evening, a great reception was held at the Portsmouth Music Hall. The list of speakers included Rev. William McGinley, Navy Secretary Chandler, Greely's brother-in-law O.A. Nesmith, General Hazen, Commander Schley, Lieutenant W.H. Emory, and Secretary of the Navy Roberson, among others. Their opinions of Greely's expedition and of the relief efforts made, good and bad, are recorded in this 58-page pamphlet, which ends with a report of the disposition of the bodies of the dead explorers. Just days later rumors arose that Greely's men had resorted to cannibalism, which sparked a debate and led to General Hazen's court martial.
$850 -