Lieutenant Nobu Shirase and the Japanese Antarctic Expedition of 1910-1912 — A Bibliography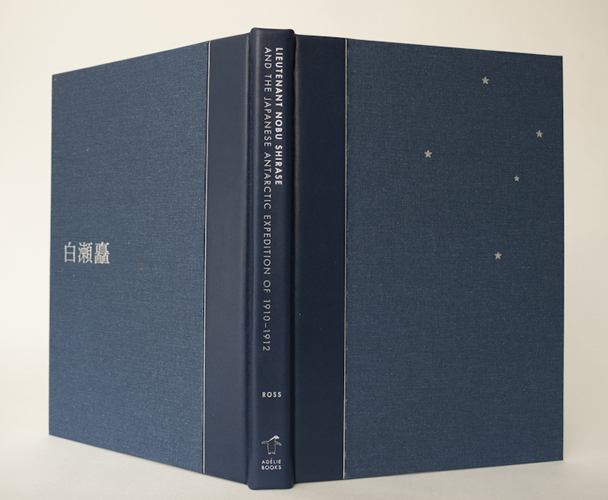 By Chet Ross
Santa Monica, CA: Adélie Books. 2010, First Edition, First Printing. 8vo, pp. (1), [xxviii], 122, (2). Illustrated end leaves front and back, frontis rendering of the Kainan Maru with textured tissue guard. Over 160 high-resolution images in color and black-and-white including 9 maps in text and 2 fold-out entries. Quarter navy-blue leather with silver ruling and dark blue linen covered boards, front cover with debossed image of the Southern Cross constellation in silver foil, spine titles lettered in silver, back cover with Japanese kanji characters 白瀬矗 (translation: Nobu Shirase) debossed in silver. This First Edition is strictly limited to 290 numbered copies for sale.
Encompassing over five years of research, this is the first bibliography of works by and about Lt. Nobu Shirase and the Japanese Antarctic Expedition of 1910-1912, and it contains over 50 publication entries from different countries including Japan, Australia, France, Germany, Scotland and the United States. This is also the first book written in English about Nobu Shirase and the JAE in the 100 years since the expedition departed from Tokyo Bay enroute to Antarctica.
From the book's Foreword written by Michael Rosove of Adélie Books: "What Chet has uncovered and given to us in this work is a revelation: more accounts, biographies, and analyses than most of us were aware existed; and he has supplemented the details of these publications with a thoughtful synopsis of the expedition's history, a concise life story of Shirase, remarks on Zenya Taniguchi who is a direct tie to Shirase himself, and brief bios on many of the expedition members".
The official launch of this important publication was on October 22, 2010, at the Shackleton Autumn School in Athy, Ireland. The book was launched by Japan's Ambassador to Ireland, Mr. Toshiano Urabe, and the author.
$225 -