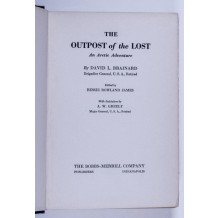 Outpost of the Lost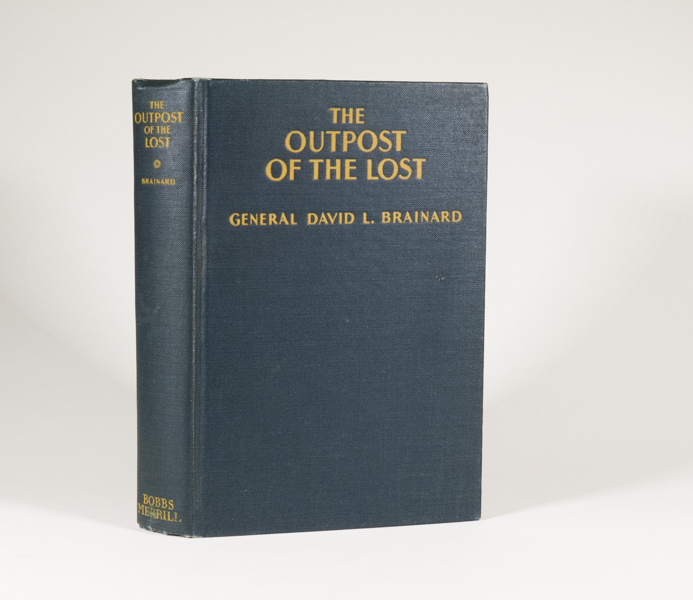 An Arctic Adventure
By Brainard, David L., Brigadier General
Indianapolis: Bobbs-Merrill, 1929. 1st Edition. 8vo — 21.2 cm. 317 pp. Publisher's dark green cloth with mustard-yellow colored title lettering on cover and spine. Cartographic end leaves front and rear. This copy is bearing two unique bookplates on the front free endleaves. On the left ffe is the bookplate of famous polar historian William Henry Hobbs. On the right ffe is the elegant polar bookplate of Arctic explorer and polar research scientist Lars Dan Laursen. A Near Fine and complete copy inside and out.
This book consists of the private journals of Sgt. Brainard on polar exploration in 1888, one of the six survivors of the ill-fated Greely expedition. The U.S. International Polar Year Expedition of 1881-4, aka Lady Franklin Bay Expedition, led by Army Lieutenant Adolphus Greely, reached Lady Franklin Bay in August 1881 and established a scientific research station. Although Greely was without previous Arctic experience, he and his party performed notable feats of exploration; many unknown miles along the coast of NW Greenland were added to the map, Ellesmere Island was crossed from east to west, and Second Lieutenant James B. Lockwood achieved a new northern record of 83°24′. —Arctic Bibliography 2071.
The expedition ultimately had tragic results. Their fatal mistake was in plunging into the extremely dangerous ice of Smith Sound, without having established, at the mouth of that sound, a depot of provisions and a house upon which they could fall back in case of disaster. The failure of supply ships to reach the expedition in the next 2 years forced Greely to abandon the station and retreat to Cape Sabine. Relief ships were sent over the next 2 years, but failed to reach Greely's party encamped at Cape Sabine, the 'Proteus' being a store ship bringing much needed supplies who was sunk by ice en route. Finally, the third relief vessel arrived in 1884, all but Greely and six others had perished from starvation, drowning, or exposure. The survivors themselves were near death, and one died on the homeward journey.
$400 -