Six Came Back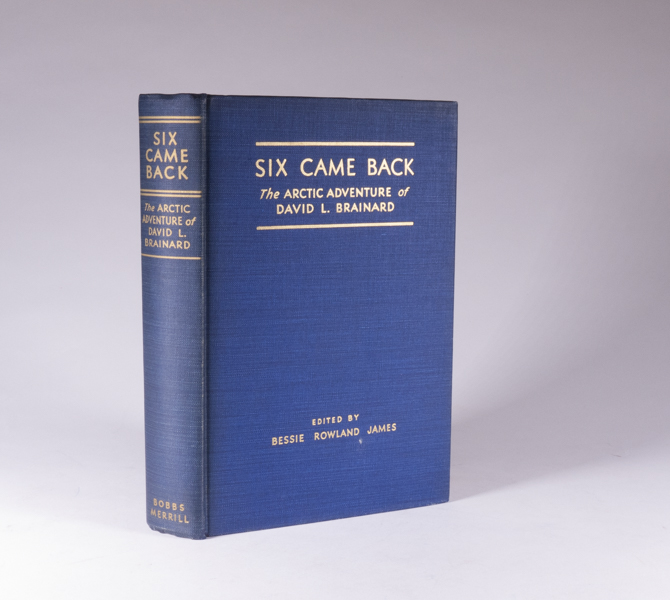 The Arctic Adventure of David L. Brainard
By Brainard, David L.
Signed and inscribed by David Brainard in the year of publication.
Indianapolis & New York: by Bobbs-Merrill Co., 1940. 1st Edition, 1st Printing. 8vo – 22.2cm. 305 pages, frontispiece portrait, black-and-white photographic plates, cartographic endpapers, a complete copy. Publisher's blue cloth with bright gilt titles on cover and spine. In Near Fine condition; Pages are clean and gutters are strong and un-cracked. A Near Fine copy of an important first-person account of the Lady Franklin Bay Expedition under the command of Lieutenant Adolphus Greely. This volume contains Brainard's entire diary, a portion of which (the last four chapters) was published in 1929 as "Outpost of the Lost". Arctic Bibliography 2071
Account by Sergeant David Brainard, one of the six lone survivors of the 25 man Greely Expedition – officially called The Lady Franklin Bay Arctic Expedition that sailed from St. John's, Newfoundland in July 1881 with Lt. Adlophus W. Greely in command. On the day of sailing, Sergeant Brainard began his diary – this was the first publication of Brainard's complete diary account that documents one of the tragic sagas the long history of Arctic polar exploration. Brainard was one of three men who pushed up the Greenland coast to plant the American flag in the snow of the most northern latitude men reached at the time. Brainard also achieved Farthest West crossing Grinnell Land from east to west and for the first time sighting the Western Ocean. An important first-person account, and this is also a very captivating narrative to read. This unique copy is signed and inscribed by Brainard in the year of publication on the half-title page.
$850 -